Dart
Dart's PRO1 LS 12° 285cc CNC Aluminum rectangle port cylinder head for GM LS7 compatible small bl...
If you're building up a Dart block and want the best bearings with the correct sizing, then you'l...
 PRICING IS PER PAIR   These are the same heads as we use in our Big Block builds like this one....
The Dart Aluminum small block is light, strong, and affordable. With displacements up to 450 cubi...
Designed for high performance and heavy duty applications, the SHP block is the ideal starting p...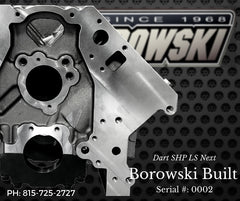 When Dart introduced the LS Next block in 2013, it opened the door to mechanically reliable big h...