Engine Long Blocks
We offer a range of LS long blocks for quick delivery as we maintain a large parts inventory.    Custom LS, SBC and BBC may also be ordered to your specifications. Our advanced CNC equipment assures the highest level of precision in machining.  The craftmanship of our highly trained staff is unsurpassed.  The key LS parts normally in stock are:
| | | |
| --- | --- | --- |
| Blocks | Cranks |  Heads |
| GM 6.0L iron* | GM cast* | GM LS3* |
| Dart LS Next Aluminum | Compstar 8-cwt; stock & 4.000" stroke | RHS LS3 |
| Dart LS Next SHP Pro | Magnum 8-cwt 4.000" stroke | All Pro |
* = seasoned; Compstar and Magnum = Callies; heads are all ported on our 5-axis CNC
Call us at 815-725-2727 to discuss your needs.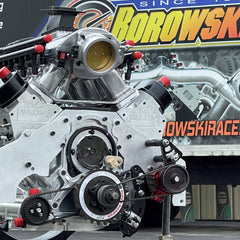 This billet long block uses a highly optimized, but well-proven LS architecture. The parts are ...
Looking for some serious power at a great price? Look no further! This 370 ci LS long block is de...
PHOTOS INCLUDE OPTIONAL BILLET INTAKE MANIFOLD This 555 cubic inch BBC long block is built to han...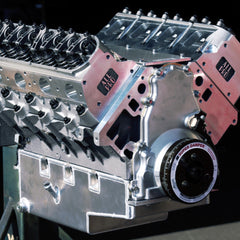 This long block is for someone that wants bullet proof so they won't cringe every time they turn...
This hydraulic roller long block is rated to 1,800 hp. We switch to a mechanical roller cam and J...